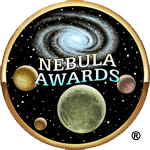 One of my reading goals for 2012 is to read the winner of the Nebula Award. Today the nominees were announced by SFWA (Science fiction and fantasy writers of America), and I've discovered that I've actually read two of the novels that are nominated for best novel; Embassytown by China Mieville and Among Others by Jo Walton. I loved them both, but I will be rooting for Among Others.
When it comes to the other categories I have read one of the YA books, Daughter of Smoke and Bone by Laini Taylor, and one of the novellas, The Man who Bridged the Mist by Kij Johnson. They were both good.
And what about my reading goals….. If one of the books I've already read wins, I will read one of the other nominated novels. I might read some of them anyway.